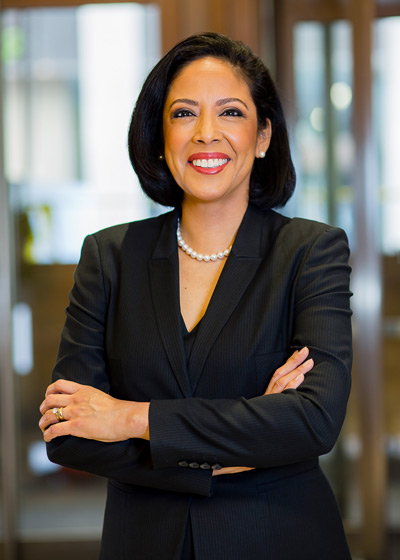 Anna Maria Chávez, NSBA Executive Director & CEO
Tuesday, Oct. 20 at 9 a.m.
Anna Maria Chávez, the executive director and chief executive officer of the National School Boards Association (NSBA), will kick off NJSBA's Virtual Workshop with an inspiring keynote address.
Chávez is a skilled, multi-dimensional leader. Prior to joining NSBA, she was Executive Vice President and Chief Growth Officer for the National Council on Aging where she oversaw the day-to-day operations of the National Council on Aging (NCOA), the nation's oldest service and advocacy organization dedicated to improving the health and economic security of older Americans. Chávez ensured that NCOA's fiscal, operations, fundraising, marketing, consumer experience, advocacy, human capital, technology, programmatic, and organizational culture strategies were effectively implemented across all segments of the organization. She led the NCOA operations team in achieving NCOA's 2020 social impact goal one year early in 2019.
As NCOA's Chief Strategy Officer and Senior Vice President for External Affairs, Chávez led the teams responsible for marketing and communications, fund development, strategic partnerships, public policy, and advocacy and the National Institute for Senior Centers.
Chávez developed the leadership skills growing up in Eloy, Arizona, that would propel her into a career of public service. Her desire to transform the world through servant leadership led her to Yale University, before pursuing a juris doctorate at the University of Arizona. She held numerous posts in President Bill Clinton's administration and later returned to Arizona to serve then-governor Janet Napolitano.
Chávez's success led to her appointment as CEO of Girl Scouts of the USA, where she served from 2011-2016 as the first woman of color to lead the 104-year group with 2.7 million members in over 90 countries and 59 million alumnae in America. In 2016, she was named as one of the World's 50 Greatest Leaders by Fortune magazine, cited for her vision and creativity in working to revitalize the Girl Scout brand for a new century and was named number 22 by Fast Company in its annual list of the most creative people in business.
As one of the world's top experts on women's leadership, youth development, and aging issues, Chávez achieved that recognition by drawing on her 25 years of public service and nonprofit leadership. She brings a wealth of experience from previous legal, public policy, nonprofit management, and brand management positions in Arizona, Texas, Washington, D.C., and New York City.
Chávez's keen insights and dynamic presentations have inspired thousands of individuals around the globe to lead authentically and she has helped organizations work together more collaboratively and create dynamic impact. Chávez has appeared on CBS News, NBC's The Today Show, FOX News Channel, CNBC's Squawk Box, CNN, Bloomberg Radio, National Public Radio, and was a contributing writer on Huffington Post.
---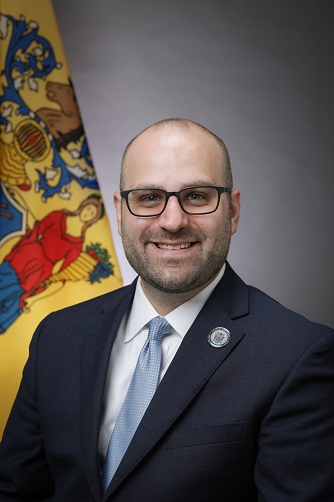 Kevin Dehmer, Outgoing Interim Commissioner/Chief Financial Officer/Assistant Commissioner-Finance
Wednesday, Oct. 21 at 9 a.m.
On July 1, 2020, Kevin Dehmer was named Interim Commissioner for the New Jersey Department of Education by Governor Murphy.
"It has been an honor to serve with Commissioner Repollet as part of a team that has worked with schools to make significant strides in academics and navigate some extraordinary challenges. I look forward to guiding the Department as it transitions to its next chapter of leadership."
Kevin Dehmer is Chief Financial Officer and Assistant Commissioner for the Division of Finance at the New Jersey Department of Education. He supervises the application of the state's school funding formula to determine state aid for school districts, the calculation of district tuition rates, and the funding of charter schools.
Additional responsibilities include the funding and regulation of student transportation and non-public schools, student residency determination, and required U.S. Department of Education fiscal reporting. He also oversees accounting guidance for all public schools and approved private schools for students with disabilities, long range school facilities planning and school facility project review, state monitors in fiscally distressed school districts, and the inter-district public school choice program.
As the Department's Chief Financial Officer, Mr. Dehmer oversees the administration of all federal and state grants to school districts and charter schools as well as the Department's office of information technology.
Prior to achieving this title, he served in various other leadership roles within the Department, including: Special Assistant in the development of the School Funding Reform Act, as the school finance expert in several Abbott v. Burke cases and for the Education Funding Task Force, Certified Project Officer for database analysis of National Assessment of Education Progress (NAEP) data, and contract manager for a multi-year study of special education funding.
Mr. Dehmer graduated from Rutgers University's Edward J. Bloustein School with a Master's degree in public policy and was an Eagleton Institute Graduate Fellow in Politics and Government after graduating from Saint John's University in Minnesota with bachelor's degrees in economics and political science.
---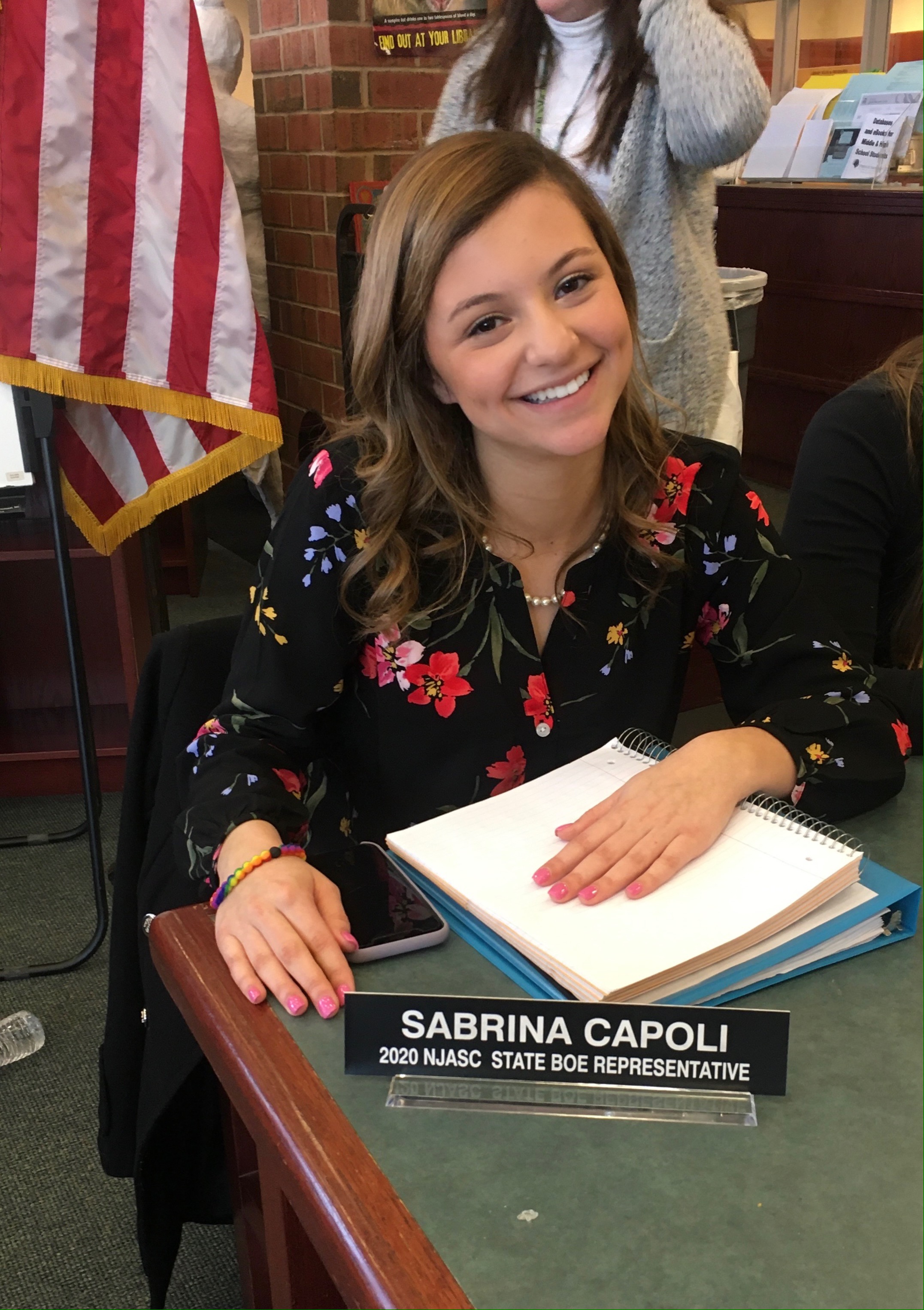 Sabrina Capoli, Student Representative to the New Jersey State Board of Education
Thursday, Oct. 22 at 9 a.m.
Sabrina Capoli, the student representative to the State Board of Education, will address NJSBA's Virtual Workshop crowd to provide a student's perspective on the pandemic and the current state of education.
As the State Board's liaison to the student community, Sabrina will offer much-needed student insight into the journey to this point, the challenges ahead, and her future hopes.
In addition to her role on the State Board of Education, Sabrina serves as the student body president at Seneca High School in Tabernacle, Burlington County, where she is a senior. She is a member of her school's Anti-Defamation League and also participates in the choir and soccer team.
The student representative to the State Board of Education is selected through the N. J. Association of Student Councils (NJASC).
The student representative serves as the State Board's liaison to the student community, serving 12 months as a non-voting member at the board's public meetings. The student representative also makes a presentation to the board at each public meeting.
During the keynote event, we will also honor Irene LeFebvre, New Jersey's School Board Member of the Year, and we will hear a performance by the Monroe Township School Percussion Symphony.
The Keynote Speakers are sponsored by